Hopefully we can run it June 4 & 5, 2022
Please wait to register till we know more about capacity limits for 2022
thank you
 Registration:  $ 140.00 + HST
Includes:
FREE FERRY for you and your cycle,
Ride insurance,
Saturday night dinner with live entertainment and Sunday lunch.
Two day full ride and mechanical support,
support stations with light snacks,
3 route options each day 
---
Due to COVID restrictions on gatherings, with heavy hearts we decided to postpone until June 2022. Please wait until June 5th, to book new ride registrations for the 2022 Ride.
All registered participants will be carried forward unless you ask for your registration fee  to be returned,  a $15.00 booking fee deduction applies. We are so sorry for the inconvenience.
For accommodations look under SLEEP
Details for the 2022 Manitoulin Passage Ride 
Welcome to great riding on Manitoulin Island where we pair great food, good music, camaraderie and long lasting friendships with our two-day fully supported ride.
Partnership with MS Chi-Cheemaun provides a Free Passage for all registered Participants and your cycle (not your car).
From Friday June 3 through to Monday June 6, 2021.
Accommodations (Click here for List of places to stay)
We recommend that you stay as near to Little Current as possible, as the Ride ends day one in Little Current and starts again on day 2 in Little Current . The ride ends at the ferry terminal the second day.
FREE luggage shuttle from the Ferry to Little Current and back to the ferry,
Ride registrations ONBOARD the ferry for our participants coming from the South.
Ride registrations at the South Baymouth ferry dock for our visitors and local riders coming from the North 9:30 am - 10;30 am.
Ride Starts 11:15 AM at the Ferry Dock, and ends in Little Current. 
Details later
Saturday evening dinner and dance:
details later
After dinner pick up to accommodation for those at locations outside of Little Current
Please ask your host if they are able to come and pick you up after supper at the  Manitoulin Conference Centre in Little Current and bring you back here again for the  Sunday morning Day 2 start. Most will agree to do so for a modest fee. You will be able to leave your bike at the Conference Center overnight if you need to.
Ride starts in Little Current at the Manitoulin Conference Centre,  8:00 am 
YELLOW

Short:         

 

 WHITE

 Medium:   

 

RED

Long:       

 

 
 End of ride at South Baymouth: Ferry Departure 3:00 pm
PLEASE register at the South Baymouth  ferry terminal before boarding the ferry.
 We wish you a safe journey home, and hope to see you all again in 2023 in Mindemoya
All 2021 registrations will be honoured for the 2022 10th anniversary ride. 2021 registered participants can ask for refund till 31 Dec 2021
a $ 15.00 handling fee applies.
For 2022 registration, cancellation refund ends May 15. There is a $ 15.00 handling fee  on all cancellations no refunds are issued after May 15, 2022.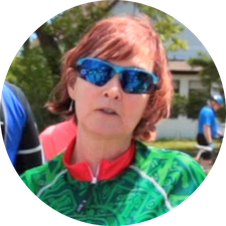 "I didn't realize all this was up here
and it's just stunning and beautiful."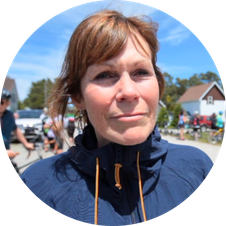 "It doesn't matter what road you go on,
every road is so pastoral, so beautiful."